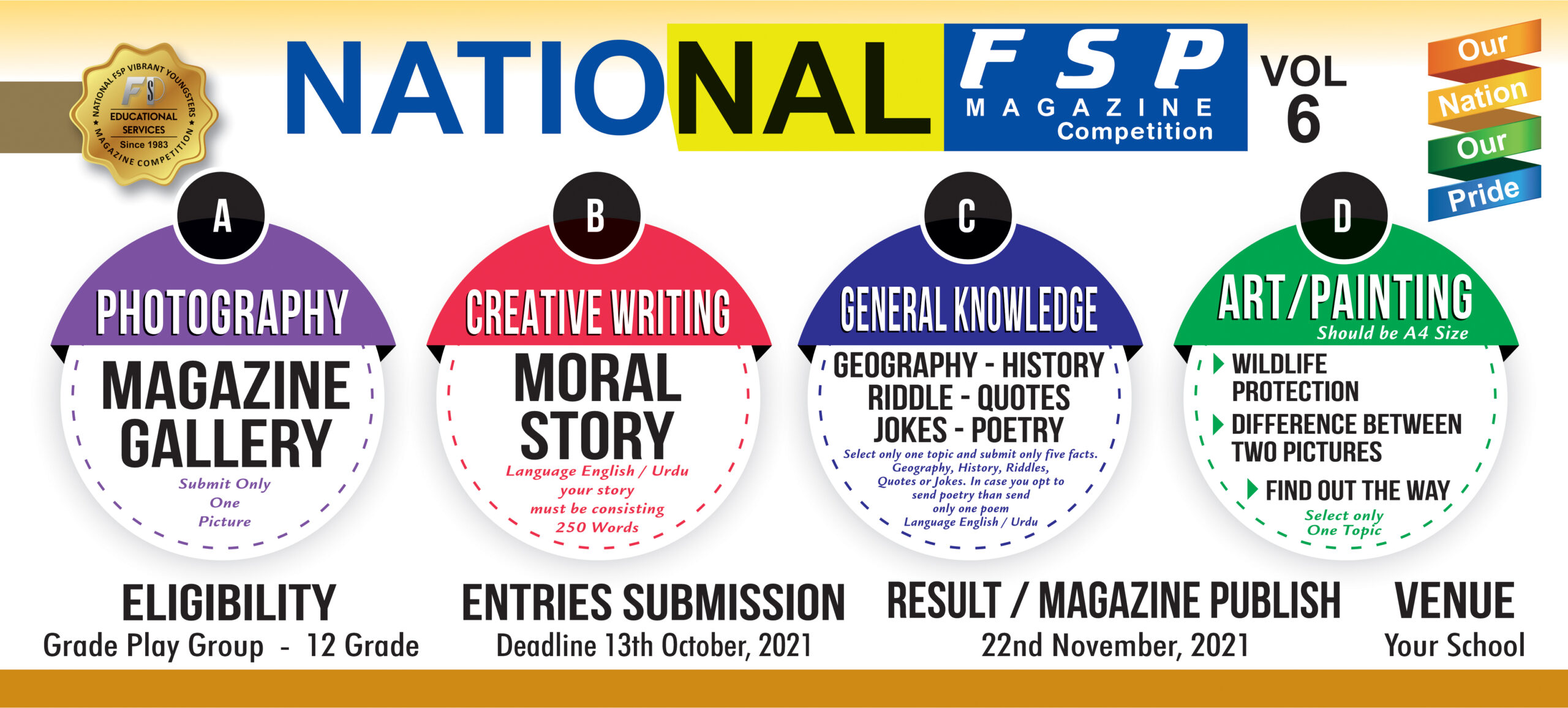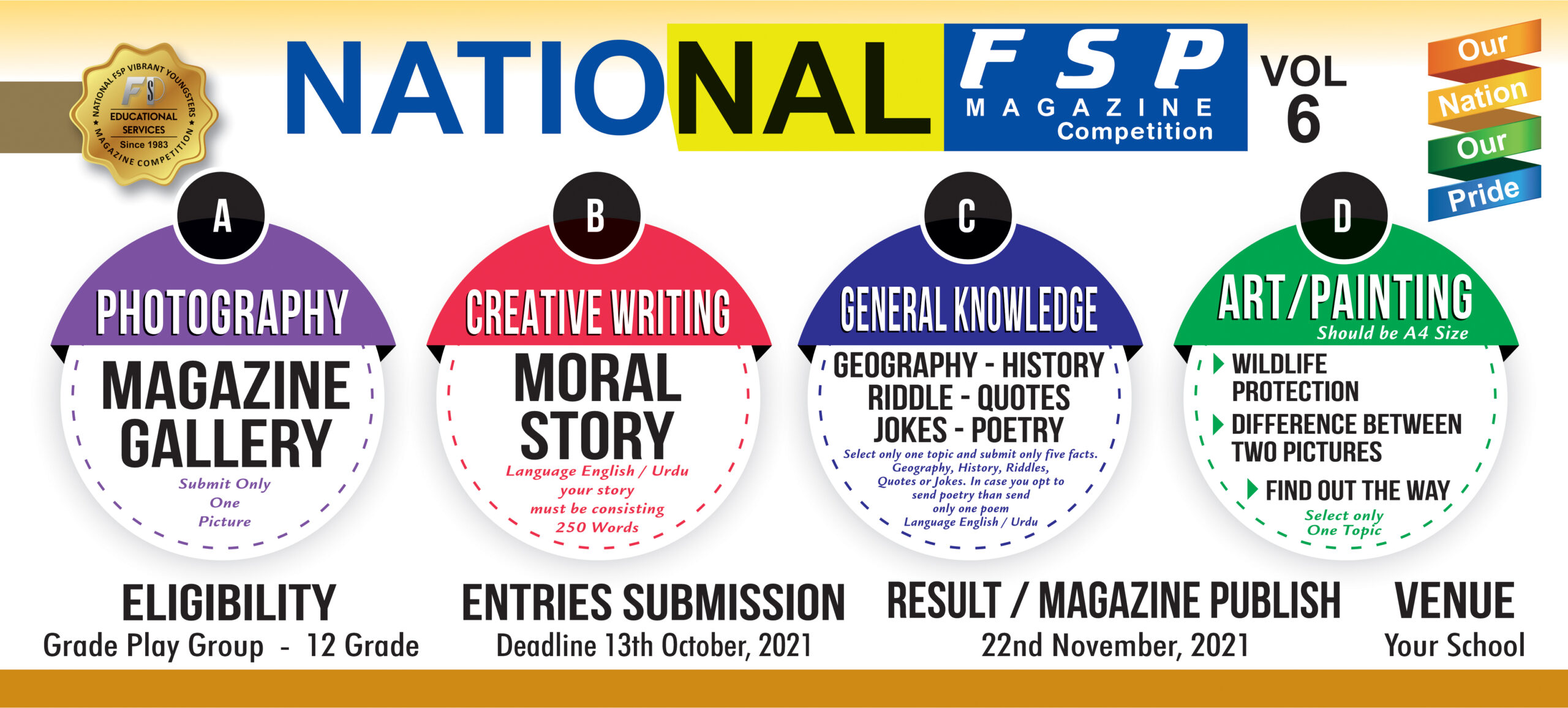 FSP Magazine Competition
Magazine Objectives
Children are the masters of the moment—they love how it feels when they smear paint on paper, how it looks when they sprinkle glitter, and even the soft sound of a brush makes as it crosses the page. Unlike older kids and adults, most toddlers and preschoolers aren't self-conscious about what they're doing or focused on creating a finished product. That can be hard for parents to accept. But letting go—and allowing kids to enjoy the process of creation—can reap big rewards. Children will be better off in the long run, if they're allowed just to be in the moment and express themselves.
The magazine kills the candidate's hesitation to:
▪ Encouraging literacy and promoting magazines and books to make students share their views and opinions.
▪ Developing interests and talents in students through participation and connecting them with the outside world full of innovations and challenges. Designing student-centered global learning experiences, accessible to the world.
▪ The magazine aims to generate opportunities for the students to enhance their writing skills by engaging with our experts. The content provided by the students is published in order to encourage them in expressing their views and opinions about their topics of choice..
▪ Students build their creative confidence to develop ideas and solutions through design thinking, engineering, leadership, and through the expression of artistic and emotional beauty. They develop strong habits of the mind, such as communication, inquiry, analysis, and synthesis, diagnosis, innovation, reasoning, and managing complexity and develop the capacity to set, meet, and hold themselves accountable for meaningful goals on their own.
▪ FSP Magazines educate and entertain – holding attention and igniting imagination, arrive periodically with fresh information that is both timely and timeless, foster a sense of ownership and build self-esteem, inspirational and aspirational, help readers and mentors relate and learn around common interests, tangible and accessible to at-risk readers everywhere on the earth.
▪ Children are faced with volatile physical, mental, and social growth, and exhibit an impatient curiosity about the world around them. Information whizzes by in bits and bytes. Attention spans are fleeting. Magazines and book fair are especially capable for reaching into a child's world to deliver valuable information.
▪ Unleashes the awesome potential FSP, powerful literacy resource for community, literacy agents who are passionate to help kids and families to learn and love to read.
▪ Students find real joy when they see their names published in the FSP National magazine. Besides, FSP National magazine encourages students to make them recall the joyous and memorable moments that in their learning. The magazine plays an important role to connect them with the outside world, especially students from different curriculum and fields.
▪ The magazine is focused on students of different schools and grades. It is circulated amongst the students through a subscription plan on quarterly and yearly basis.
In order to conduct such competitions and to bring creative ideas to light, we are pleased to invite you to participate in "National FSP Vibrant Youngsters Magazine Competition". The competition category schedule is as under:
We are working for children in different areas which are given below.
CATEGORY – A
PHOTOGRAPHY
MAGAZINE GALLARY
SUBMIT ONLY ONE PICTURE
CATEGORY – B
CREATIVE WRITING
• MORAL STORY
LANGUAGE ENGLISH/URDU YOUR STORY MUST BE CONSIST 250 WORDS
CATEGORY – C
GENERAL KNOWLEDGE
SELECT ONLY ONE TOPIC
• GEOGRAPHIC
• HISTRY
• QUOTES
• POETRY
• JOKES
• RIDDLE
LANGUAGE ENGLISH/URDU
SUBMIT ONLY 05
IN CASE YOU OPT. TO SEND POETRY THAN ONLY ONE POEM
CATEGORY –D
ART / PAINTING
• WILDLIFE PROTECTION
• DIFFERENCE BETWEEN TWO PICTURES
• FIND OUT THE WAY
YOUR PAINTING MUST BE A4 SIZE PAPER
| | |
| --- | --- |
| Registration submission deadline | October 09, 2021 |
| All categories pieces submission deadline | October 13, 2021 |
| Result/Magazine Publish | November 22, 2021 |
IMPORTANT INFORMATION:
National FSP Vibrant Youngsters Magazine Competition open for all students from Play Group – 12th Levels. The students will not be required to travel anywhere, it will be held in their own Location
There is no upper limit of participation.
Co-partner materials are not accepted.
Registration cost. each category 600/-
Participant's hard material along with registration copy and send it through courier at Program Coordinator, Famous Stationery and Paper Products, 12 Kabir Street Urdu Bazar, Lahore.0300-7686677
If you need any further assistance, don't hesitate to contact the Program Coordinator at 0300 7686677 or through email at info@fspcompetitions.org
Following are the available payment options:
Bank draft / pay order drawn in favor of "Famous Stationery and Paper Products".
Online Payment – Online Transfer to "Famous Stationery and Paper Products".
Direct Deposit into "Famous Stationery and Paper Products" Bank Account.
BANK ACCOUNT DETAILS:

A/C titled: FSP VIBRANT YOUNGSTERS
A/C No.: 0203900271540001
IBAN: PK72BKIP0203900271540001
Bank Name: BANK ISLAMI
Branch: LAHORE.
Cover Page
| | |
| --- | --- |
| Student Name with picture | ———————- |
| Student Father Name | ———————- |
| Category with selected topic | ———————- |
| Grade | ———————- |
| Institution Detail | ———————- |