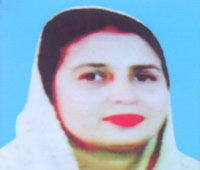 Education is preparing child to face everyday life
I am very excited to serve as principal in G.S.S M.F Campus, Our students are confident, competent and well- rounded individuals who are engaged to bloom and shine. Our is to provide students with the opportunity to serve, to lead and to fulfill their potential in all sphires.
Learning start in the infancy, long before formal education begins and continues throughout life.
I welcome my little angels as "Shining Stars" in my institution. My aim is to have at its core positive and constructive relationships.
Where the expectation is high……
Learning is relevant, deep and real …….
Where structure and support facilitates progress for every student. There is the strong emphasis on striving for personal best and on the holistic development. My efforts are to make our "Shining Stars" confident, competent & well – rounded individuals who are encouraged to develop a love of learning together with the skills, resources and motivations.
I practice punctuality, devotion, patriotism respect and dignity in students. Our well talented teachers encourages all students to strive to achieve their best with their academic learning, social skills, school spirit and sense of service to others. We want to revolve around analytical, creative reflective thinking. I understand that student need to have greater thinking a problem solving abilities and be more self-motivated than ever before.
My love is to all my little angles
"Students must be through how to think not what to think"
Mrs. Fozia Umer
Principal Green School System Faisalabad